Mission Statement: To provide a safe and relaxing atmosphere to all our guests and delivering the upmost quality to all pets in Estero. The pet experience is very important to us and we want to make sure we are taking care of all of our guests regardless of age.
These are some of the things we do to assure the safety and comfort of your pet:
- HD camera monitoring every step of your pets experience
- Happy Hoodies used as "ear muffs" to help keep the drying experience quiet
- Overhead arm and straps to help geriatric pets support themselves
- Our Pet care Spaw Room is designed to cut outside noise and extract the moisture from the air while blowing gentle air around the pet (wonderful for dogs with heart issues)
Nail Trimming + File (up to 30 lbs) – $13
Nail Trimming + File (31 lbs and up) – $18
Ear Cleaning – $7
Eye + Bang Trim – $10
Pad Shave – $7
Sanitary Trim – $10
Anal Glands – $15
Teeth Brushing – $7
Combos (all combos include all natural water less shampoo spritz):
Nail Trimming/File (small) + Ear Clean + Teeth Brushing – $17
Nail Trimming/File (large) + Ear Clean + Teeth Brushing – $22
Anal Glands + Sanitary Trim – $19
Eye/Bang Trim + Pad Shave + Sanitary Trim + Quick brush-out – $19
Everything but a bath (any size) – $40
Nail Trim/File + Ear Cleaning + Eye/Bang Trim + Pad Shave + Sanitary Trim + Anal Glands + Teeth Brushing + Quick Brush out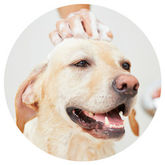 Express Service
We off the Express Service, a much asked for service. This is made for our sensitive pets that do not handle the grooming experience as well as others. For a fee of $25 one is able to book a time when the visit by their pet to the salon is done in theinimum possible time. Our approximate time for grooming is 3 hours, during the express we are able to shave off about an hour, sometimes more. This service is only available for pets that are in perfect shape. Special Booking is required.

Puppy Trim: Starting at $50
A puppy's first haircut is very important that is is a positive experience. One negative experience at a young age can make going to the groomers a nightmare for the next 5 years. We recommend for the first haircut to be done as soon as 14 weeks before the air gets any tangles and for them to experience a little bit of everything. We start with baths and drying process to get them used to the water and the dryers, then we move on to the trimming. We start by just doing a little bit for the first appointment. introduce clippers to do paw pads and a sanitary trim, then trim the nails, and finish up with scissors with trimming around their feet and around the eyes. A positive experience can go a long way for the pet and pet owner.

Bath and Brush-out: Starting at $30
This includes a full bath, nail trimming, nail filing, anal glands, ear cleaning, deshed, and brush-out.

Mini Trim/Light Trim/Clean up: Starting at $45
This is our general maintenance for many dogs. It includes everything a 'Bath and rush- out' does, plus sanitary trim, paw and feet trim, and clean-up around the face for dogs with longer hair.

Full-Service Grooming: Starting at $65
This is where we shine. The trim is completely designed towards how the client would like it. We aim for breed standard, but client standard is the ultimate decider. Our staffs trained to help you choose what you want. The amount of labor determines the final cost not the breed of the dog. Check out our gallery here. We truly specialize in all breeds in all different types of haircuts.

Handstripping
Carding/Hand-stripping is the correct form of grooming for many terriers. Is it a natural way of grooming wire breeds? Hand-stripping promotes a healthier skin and coat by removing dead hair and allowing new hairs to come. If the hair is simply cut by a clipper you are not allowing new hairs to form. When dead hair is taken out the follicle closes and requires a strong wire hair to reopen the follicle. This helps stimulate the muscles surrounding the shaft of the hair. When hair is clippered it creates a soft and weak hair and can create a build-up of oil in the skin which can cause little bumps around the pet. Hand-stripping also helps promote the natural hair color. Handstripping is an art and requires extra time so it must be requested when creating an appointment to make sure a correct amount of time is allocated. Hand-stripping is priced as an add-on to the full grooming at $90/hour.

De-matting
Matting is when a coat starts forming tangles from playing rough around the house ith other dogs, or from walking in wet grass on a daily basis without getting fully rushed out everyday. This is something that unfortunately get out of hand very quickly. Our team has been trained and educated on how to de-matt with no pain and little loss of hair. This is however a procedure that takes time, so it is important to disclose the condition of the pet when making an appointment so we may allocate an appropriate amount of time. Needless to say extra time means extra charges. A pet hat comes in matted and the owner requests de-matting demands extra time. Our hourly rate of de-matting is $90/hour. De-matting without pain takes skill and time, only by paying a specialist can clients be assured the safety and respect for their pets.

Add-ons
Teeth Brushing: $7 (Can be added on to any service.)
Paw Spaw: $7 (Honey based cream applied to the paws of the pet client. Helps hydrate dry or cracked pads.)

Co2 spa shower: $10
Revolutionary spa care for skin & Coat. Its a natural skincare additive to the bathing process. This product is replicated from the hot springs of Japan. The tablets are laced in a shower head and deliver a skin therapy to your pet that increases blood circulation and oxygen absorption. This in turn leads to metabolism improvement and a better immune system. Now combined with our micro bubble system making water molecules up to 1/20th of the size of normal bubbles.

Oatmeal Hot Towel Treatment: $20
Lathering on a ridiculous amount of oatmeal conditioner onto the coat and wrapping it all with a hot towel to let it sit for 10 minutes. Great for dry, itchy, or damaged coat.
Come visit our pet supply store in Estero, FL specializing in quality food, treats, and supplies for cats and dogs.